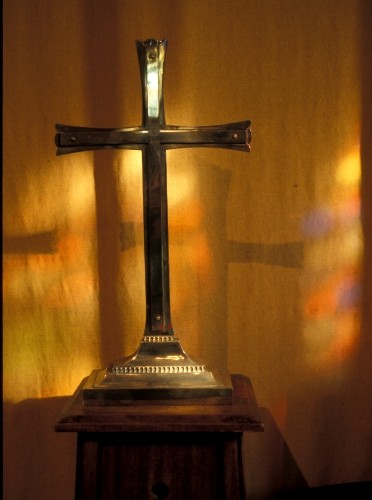 At a time of loss
If you would like to know more about our Bereavement Support Team please click here.
God's love and power extend over all creation. Every life, including our own, is precious to God. Christians have always believed that there is hope in death as in life, and that there is new life in Christ over death.
In the funeral service we give time to celebrate the good things we've been able to share with someone who has died; to pray for ourselves and the people around us who must live with loss; and we hold our own hopes and fears for the future before God.
Making Arrangements
If you need to make arrangements for a funeral it is most helpful to speak to a funeral director at the earliest possible stage. If you want to talk to a member of the clergy they will normally make arrangements, even at very short notice, to see you quickly. The funeral director will arrange all the times and dates of services with the church on your behalf. The clergy will want to talk to you face to face before the funeral.
Venues
You can have a Church of England funeral wherever you choose. All our buildings are available for funeral services, but we can also take services in the chapel at the crematorium, or in a Woodland Burial Site, if that is what you would like. Whatever you choose, it will normally be a local minister who will take the service unless you specifically request otherwise. When the service is to be taken by a Church of England minister for somebody who has lived in Kirkby this will be one of the staff members from the Kirkby Team Ministry.
Services in a chapel or in church are very similar in shape, and there is plenty of scope for flexibility, music and contributions by friends at a service in the church. We want the service to be right for your loved one, and for you and your family.
Burial or Cremation
This choice is a very personal one. We know of no reason why you should be persuaded one way or the other except for your own preferences. However, in our experience, it is important to have a place where you know a loved one's remains have been returned to the ground. If you choose cremation you may also want to plan for a burial of ashes.
St Chad's Churchyard is now closed to new burials. It is not possible for us to open new plots here but we can re-open existing plots.