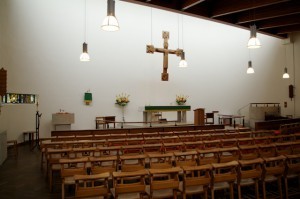 A Christian Welcome for All!
Welcome to St. Martin's pages. We are a church community that believes in welcoming everyone, no matter who you are. We provide Sunday worship, midweek groups for all ages, community space available to hire, opportunities to celebrate life's most significant moments, including christenings, weddings and funerals, and much more.
For regular updates, follow us on Facebook.
At the heart of everything that we do is our faith, providing purpose, freedom and forgiveness. We run, along with the other churches in the parish, a popular and engaging Questions of Faith course, which offers an introduction to what we believe, as well as an opportunity to discuss the really big questions of life.
We meet together each Sunday at 9:30am to worship together and to try and work out what it means to live as a Christian today. The church includes many different people, mostly from the local area, and from a wide range of backgrounds and interests and we welcome anyone who wishes to join us.
Family Service
On the last Sunday of the month, we have a Family Service. This runs from 10am for about 40 minutes, and is a lively, fun way to learn more about the Christian faith.
In 2010, the church building was completely refurbished, making St. Martin's into one of the most beautiful modern spaces in the town, and providing a space for the church and the local community to use. This has involved installing toilets and a kitchen, creating a cafe-style space at the back of church, and a new entrance, as well as refurbishing and redecorating the church building.