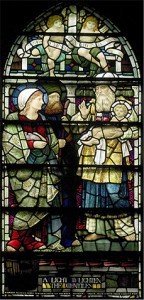 Mary and Joseph are seen bringing the baby Jesus to the Temple for a ritual thanksgiving. The old man, Simeon, is holding the baby and tells the parents that this baby was to be a light to the gentiles and that a sharp sword would pierce Mary's heart too. In this, the message of the window is consistent with the Gabriel window.
This is one of three windows set in the Baptistry. Their combined message is that children are welcome in the household of faith. Baptism, after all, is the rite of entry into the church and in this church it is most often children who are baptised. This first of the three baptismal windows reminds us of Jesus' own babyhood and of his welcome by the aged Simeon into the Temple and as a great religious leader-to-be.
You can make a donation to St Chad's by visiting http://www.justgiving.com/stchadkirkby
or send a text to 70070 and type: chad99 followed by the amount you want to give between £1 – £10.