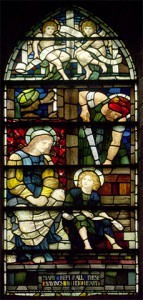 This is one of three windows set in the Baptistry. Their combined message is that children are welcome in the household of faith. Baptism, after all, is the rite of entry into the church and in this church it is most often children who are baptised.
Here we are reminded that Jesus was himself a child. His mother is sat next to him in a motherly way; his father Joseph behind at work as a carpenter. The object being made carries a reference to the cross. Jesus is here being told off for leaving the family on a journey home from Jerusalem to continue debating with scholars in the Temple. When Mary returned and found him the scholars were complementary of her young son's intellectual ability. Mary treasured those sayings in her heart. The text under the window references this.
You can make a donation to St Chad's by visiting http://www.justgiving.com/stchadkirkby
or send a text to 70070 and type: chad99 followed by the amount you want to give between £1 – £10.