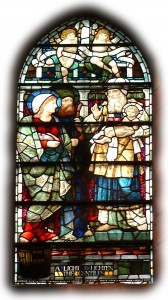 The William Morris Windows at St Chad's
One of the first things that visitors to St Chad's Church in Kirkby will notice are it's beautiful William Morris windows. They are a hidden treasure. Works of art that many residents don't know they have at hand in their town. On the outside they simply look grey and are protected with mesh. They continue to be subject to much vandalism.
These web pages are provided to help the church's neighbours and visitors appreciate the art in its windows. Maybe a wealthy benefactor will also one day notice this and help restore and protect these wonderful objects that speak of faith and hope.
Some work has started to provide polycarbonate protection to the windows and to remove the grilles that obstruct light. Through  we also hope to help local young people appreciate these treasures better.
You can make a donation to St Chad's by visiting http://www.justgiving.com/stchadkirkby
or send a text to 70070 and type: chad99 followed by the amount you want to give between £1 – £10.