While we can't get into our church building, this page offers a prayer tour of the building to make in our imaginations. Use your own memories and these photos of St. Chad's to remember the place and the people, and to journey in your own prayers into God's presence. Remember that Jesus said, 'I am with you always'.
The door
This is the threshold of a sacred place where countless generations of people have passed. God invites us into his quiet presence, where we may bring our innermost thoughts, prayers, thanks, anxieties and fears. In the Book of Revelation in the Bible, we read of Jesus saying, 'I stand at the door and knock; if you hear my voice and open the door, I will come and eat with you, and you with me'. So take a few moments now to invite God into this space and time.
Embrace silence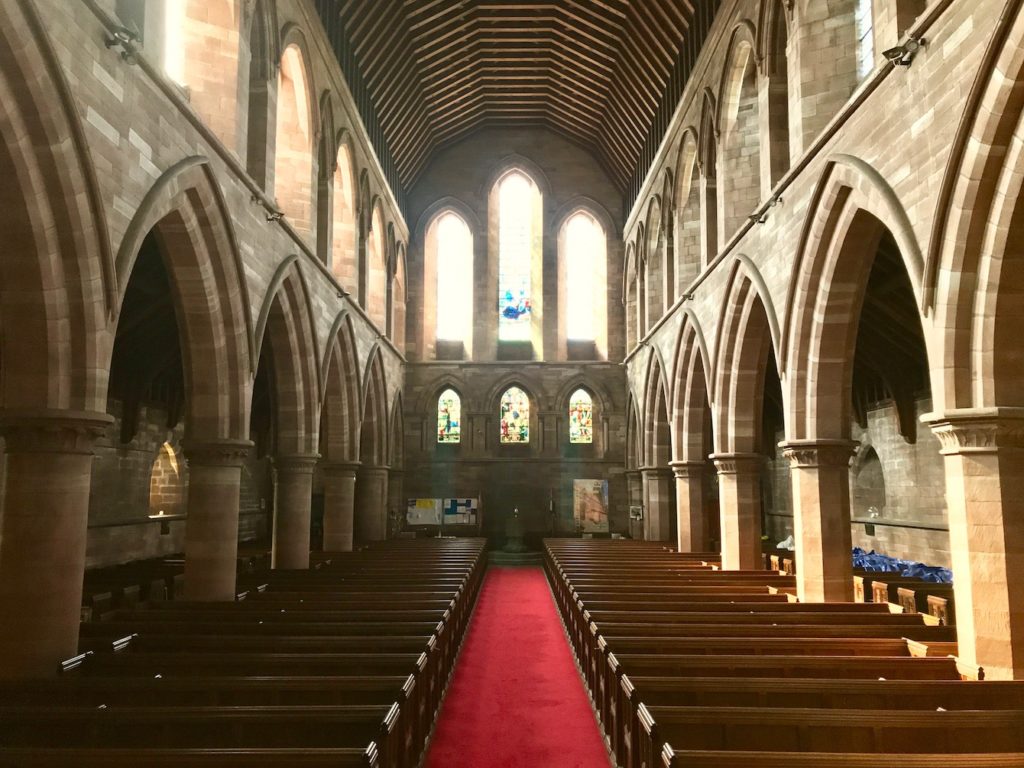 Sit in silence for a moment, and feel it enfold you. Sense in your memory the centuries-old atmosphere of St. Chad's, steeped in the prayers of those gone before you. Try to set your cares aside for a moment and absorb God's peace as it passes into you and restores your inner calm.
The stones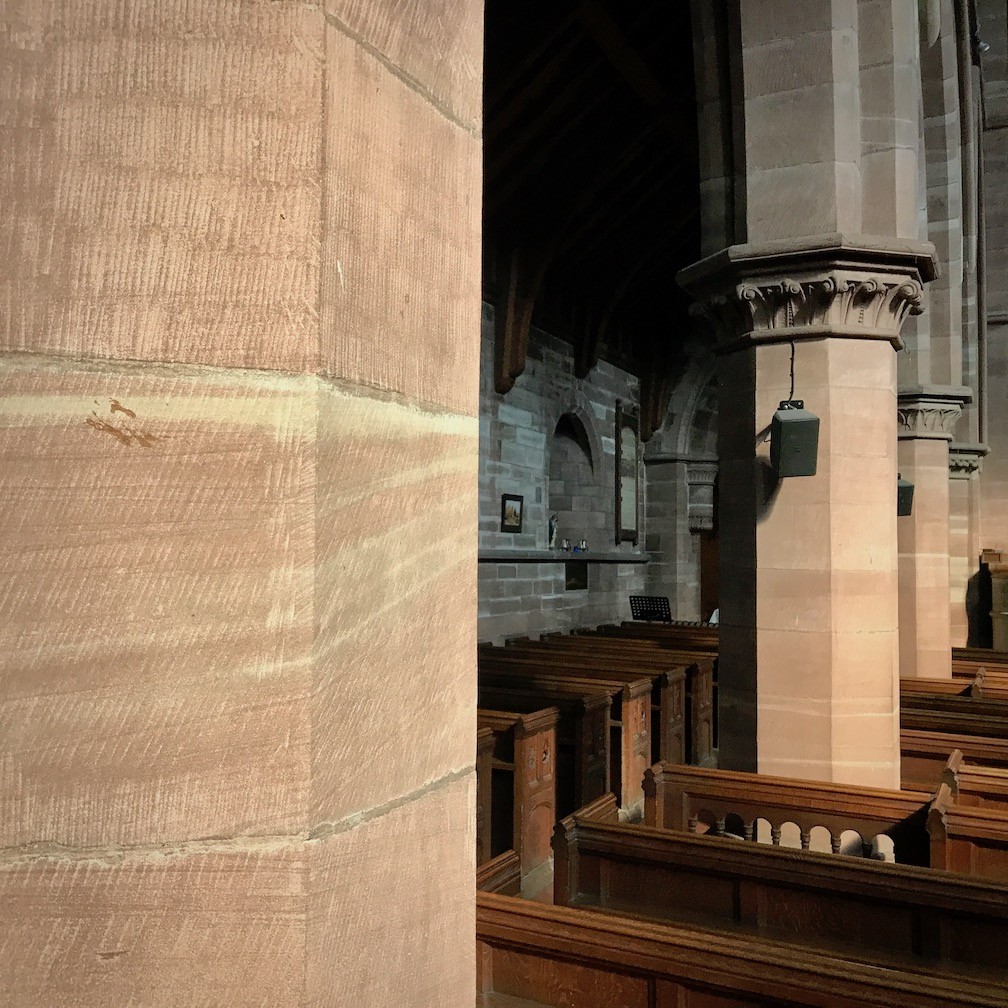 Listen carefully. What can you hear? Do you hear footsteps, voices, traffic, music, the cooing of pigeons? The ancient stones of St. Chad's have soaked up the prayers and music and everyday sounds from ordinary people for 150 years; they have witnessed sombre tragedies and great joys. Be glad to be part of an ancient tradition of faith which reaches back through time, and forwards into the future.
The font
This is the start of most people's Christian journey. The font represents new life in Christ, and heralds the start of our pathway in his light. Through the water of baptism we identify with Christ and the Kingdom of God. What or who do you most identify with?
The carvings and mosaic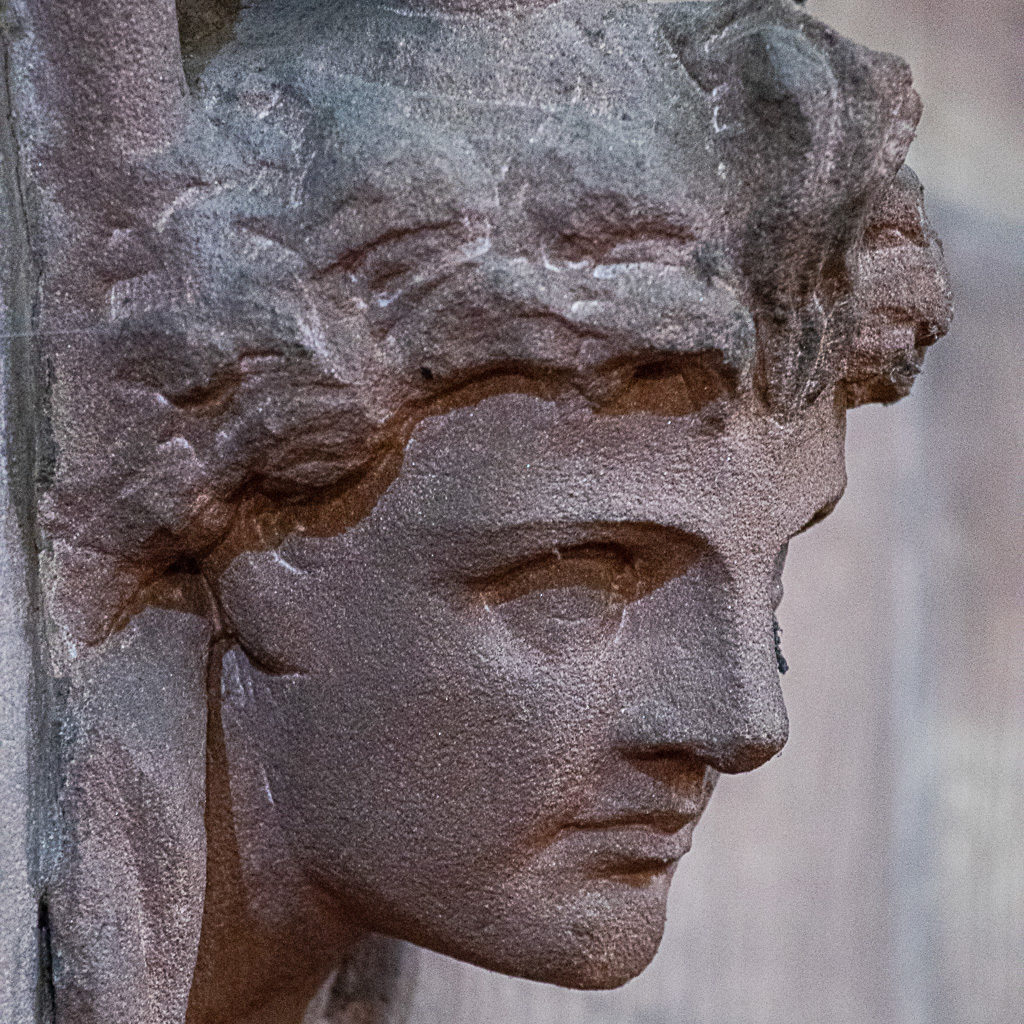 These may speak to you of creativity and history. In St. Chad's, each set of carvings is unique, just as each person is unique.
The windows
The richness of the stained glass is enhanced when the sun shines and may transport us beyond the ordinary. In your mind's eye, gaze at them and try to feel the story they portray. Put other, mundane, thoughts from your mind and experience the love and dedication that was poured into these works of art to the glory of God.
Offer a prayer
Of course, we don't have to be in a church to pray. So find a quiet spot. Empty your mind so that you can feel God's presence with you, then talk to him. Try to listen, too; prayer is not a one-sided conversation. It's about a relationship that needs time and space. Or write a prayer and place it in front of God.
Honouring the dead
All round St. Chad's, you see tablets and memorials to those who have passed through this life. They have gone, but their memory is honoured. Think of all those who have died and are now at rest. We believe that they are now with God and we should feel encouraged to strive for goodness in this life and look to the future without fear. It has been observed that where people's names are spoken in some way they live on. Is there someone you want to remember before God today?
The altar
The altar, from the Latin word altare or sacrifice, reminds us of Christ's sacrificial death on the cross. That is the focal point of his presence during Holy Communion. In our normal Sunday service which we hold each week at 11am, we follow his command to take bread and wine in the belief that through them he feeds us, transforms us and sends us out into the world. What do you consume that feeds you most in and for your daily life?
The pulpit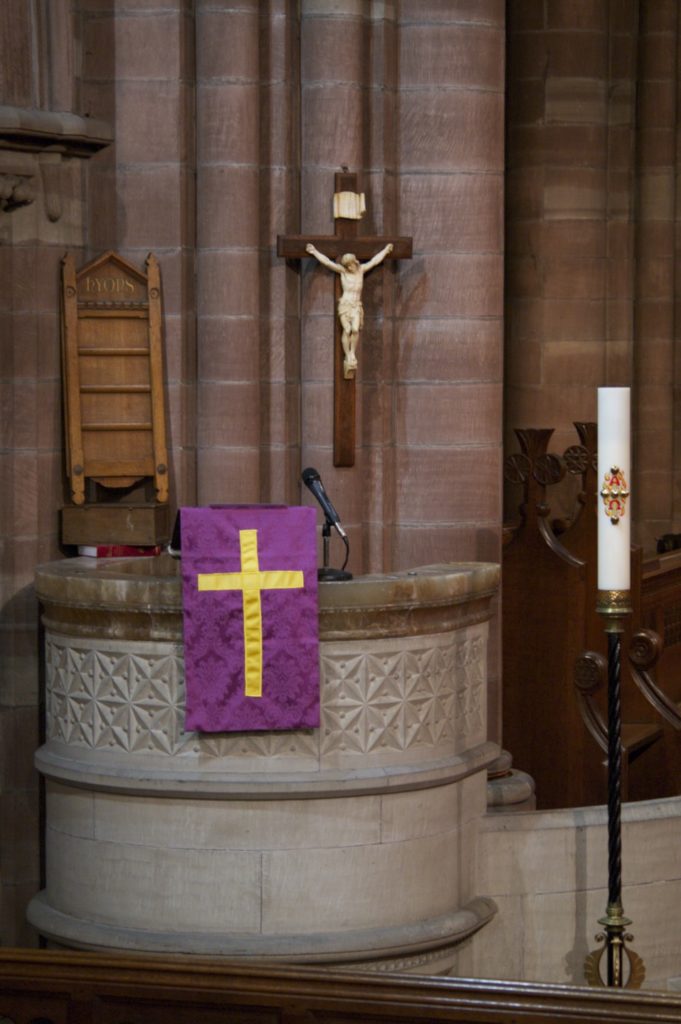 Our pulpit, from where we read the bible out loud, is carved beautifully. There is something beautiful when a moment of truth hits us, and we discover something new about the world, our relationships, or ourselves. Might the living word of God, Jesus of Nazareth, the Son of God, have something to say to you today? 
The people
You may see all sorts of people in a church. You may see those seeking peace or solitude, those helping with refreshments or arranging flowers; others cleaning or tidying the dark corners, preparing the church for a special service or event. Remember that all of them are made in the image of God. Try to see God in them, in a look or a word or an action. See yourself, too, as one of them and remember that you also reflect the face of God.
It's the people who really make up the Church. So why not finish your prayers now by picking up the phone and connecting with someone who you haven't spoken to for a while?
With thanks to the Rev. Charles Chadwick, from the Diocese of Oxford, whose booklet, A guide to experiencing God's presence in your church building this page is based on.